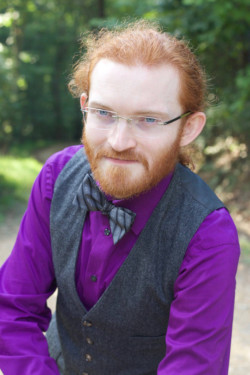 Growing up in a musical family in rural West Virginia, Walker Williams was surrounded by music from a young age. His early musical experiences included everything from Bach to Mahler, from broadway musicals to pop music, from big band to marching band, and the hymns and choral music he grew up singing. Elements of all of these experiences have combined into a passion for writing music that strives to be compositionally fresh while still being accessible to the average listener.
Walker earned his MMus in composition at the University of British Columbia under the instruction of Dr. Stephen Chatman, and a BA in music composition from Shepherd University under the instruction of Dr. Nathan DeCusatis, Dr. Mark Cook, and Brian Cambrel.
Walker's compositions have been performed at events including the US National Saxophone Symposium and the Alba International Music Festival in Alba, Italy. In addition to composing, Walker is also a bass-baritone and an oboist, and has served as a section leader in numerous choirs and instrumental ensembles. He has performed at the Alba International Music Festival, as well as in other international venues including Notre Dame Cathedral in Paris, France.
You can also find me on
Facebook
and
Soundcloud
Nearly all of my music is self-published; for information on obtaining sheet music for any of my compositions, just shoot me an e-mail at WalkerWilliamsMusic@gmail.com
Psst…
do you like free stuff? maybe some
free music
?